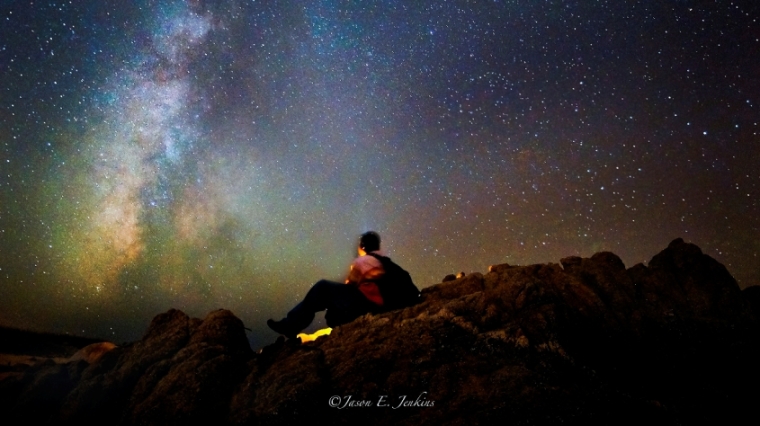 Having a dad is a big deal. This has been proven by many studies. For example 85% of all youths in prison come from fatherless homes. 90% of all homeless and runaway children are from fatherless homes. I have spent 7 years as a youth pastor, and four years before that mentoring teenage boys, many of which were fatherless. I have seen firsthand how many challenges can be traced back to not having a father or a father figure in someone's life.
The truth is, whether you had a dad or not, you still need what Michael Brodeur
 calls a constellation of fathers.
When I look at the stars, I often try to find the North star. Even though I've found it probably hundreds of times, I typically can't find the North star until I find the Big Dipper. When I find the Big Dipper, I can connect the dots of two of the stars, and draw an imaginary line that leads me to the North Star, which is part of yet another constellation – the Little Dipper.
Fathers, mentors and people in our lives who influence us, lead us and disciple us are pivotal in helping us discover the North Star of our destiny. They are the ones who push us in the right direction.
Maybe you had a great dad. Maybe you had a horrible dad. Or perhaps you didn't ever have a dad. In any case, you need a constellation of people in your life who you can get different kinds of juice from and help you find your North Star.
Here are a few types of fathers/mentors I've had that have helped steer me towards the North Star of my destiny:
1. Cheers to the Frontiersman Dads. I am one of those lucky people who has what I would call a "frontiersman dad." Like pioneers such as Daniel Boone or Simon Kenton, who blazed trails into untamed, dangerous territory. He is a man who changed his family tree, when he started following Jesus, and gave me things he never got from his dad. Every time we just get to talk, even if we don't talk about anything deep or important, it gives me a huge boost of encouragement and confidence. Without doubt the chief star in my constellation of fathers.
2. Seasonal mentors. I had many Sunday school teachers that I don't remember. There is one however that I really admired. And remember. His name was Phil Plutt. He was an older guy, and probably retired. He didn't even teach Sunday school that often. But he left a mark. When I was a kid, what I loved about him was that he was "strict, but fun". Also the fact that he used to be a combat pilot who once had to catapult out of his aircraft in a real dog fight contributed to his coolness, but it wasn't just that. Perhaps it was the type of leader he was and how he led us boys, that probably affects how I lead to this day.
3. Distant, remote. But life-giving and necessary.
David Hogan, Michael Hyatt, Doug Addison
, Bill Johnson, Kris Vallotton
, Rick Joyner
, and Dave Ramsey

are a few of my examples of people who have fathered me through their books and teachings.  I don't know them personally, but nevertheless, they have made a huge impact on me.
4. Spiritual fathers. We all need men and women who are more mature than us spiritually who can provide guidance, discipleship and feedback.
5. Not a Holy Spirit fireball, but old and wise.
Sometimes the best person you can talk to is someone who's older than you. A lot older than you. And it doesn't even really matter how "spiritual" they are. It takes a lot of experience to have a lot of experience.  No matter how smart you are. No matter how anointed you are. You need people older than you in your life.
Pretend that all the different mentors, fathers and mothers in your life are a constellation of stars. Often, by connecting the dots of who contributed to who we are today, we can see God's sovereign hand in pointing us in the direction of our destiny and life calling.
Now to the burning question that comes up all the time.
"How?"
How do I find fathers in my life?  Why doesn't anybody seem to be interested in fathering or mentoring me?  Who is supposed to take the initiative?  The father or the son?  Should I look for fathers, or should I just try to be a good son, and let fathers find me?
This is a huge topic. Almost as big as love, sex and money.  But I just want to share a few thoughts from my personal experience.
I personally am a spiritual father to one or another degree to many people, and I love taking the initiative in pursuing people, and encouraging them, and doing anything I can to support them.  In some cases however, it could get awkward if I was the one taking all the initiative.  Especially if it was a female.  In general it seems more of an organic process, when sons ask for help, and loving fathers are glad to give it.
If you need a father in your life, don't wait for them to find you.  Pursue them.  And don't get bitter, if you are rejected.  Just keep pursuing someone you admire, who you see a father in.  Like Banning Leibscher once said "Believe that you're good soil for someone to invest into.  Interrupt us!  Pull on us!"
Get yourself a big dipper of fathers.  And let them point you to the Polaris of your destiny.
(Image courtesy of Jason Jenkins on Flickr)
Comments
comments